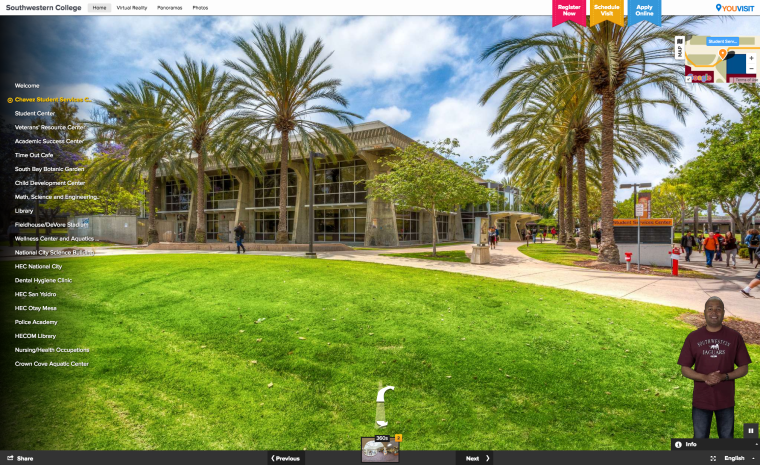 Photo: Screenshot of the new Southwestern College Virtual Tour that will go live next month.
CHULA VISTA, CA. – Soon you will be able to tour the Southwestern College campus from anywhere in the world. We're not talking about a basic 360 degree panorama, a fully immersive virtual reality experience will give anyone with a smartphone the ability to wander the sidewalks of Southwestern College and witness what the students see every day as they head to class.
The new virtual tour of Southwestern College will go live next month and will be a major recruitment tool used by prospective students and community members to get a near perfect visualization of all five Southwestern College campuses.
"We are excited to showcase our campus to prospective students by bringing Southwestern College right to their computer with a virtual tour," said Nick Montez, director of admissions and records at Southwestern College.
Students can use their desktop computer or smartphone to take a 360-degree tour of campus, get insight on all student services and their locations and so much more. But switch to the virtual reality mode, wear your special virtual reality goggles, and get real-world views of the campus.
"I think the virtual tour will not only showcase the beauty of Southwestern College and the South Bay community, but will also provide a fun and helpful way for students to connect with the college and explore all of the options and services available to them," said Dr. Melinda Nish, Southwestern College superintendent/president.
Even without the virtual reality goggles, virtual tour visitors can walk through the Chula Vista Campus, Crown Cove Aquatic Center, and the Higher Education Centers at National City, Otay Mesa and San Ysidro. Guided by English-speaking and Spanish-speaking tour guides, virtual tour visitors can stop at 19 places throughout the district to get further information on Southwestern College programs and services. The tour is also available in Tagalog and available in formats for visually impaired visitors.
"I'm excited to see students interacting with the virtual tour and becoming familiar with the campuses, maybe even before they ever step foot on one," said Governing Board President Nora E. Vargas. "I think this will help out the students in many ways, especially new students entering their first semester."
The new virtual tour keeps Southwestern College on the forefront of technology and will serve as a vital tool for outreach. Students from anywhere in the world will instantly be able to connect with the campus in a virtual world.