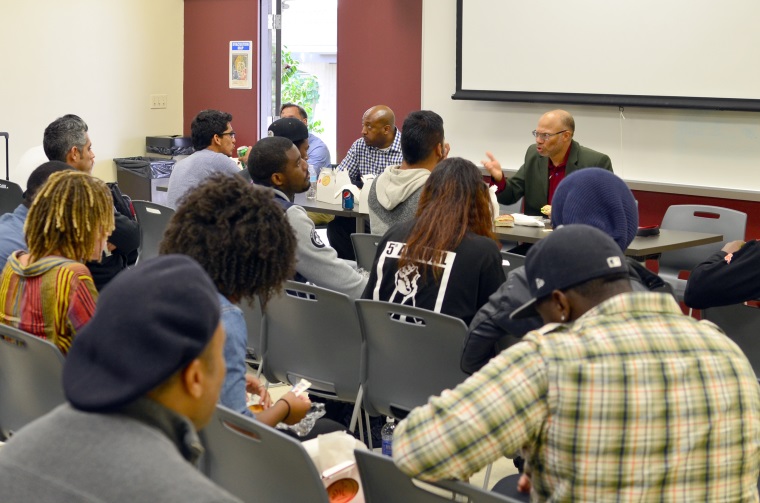 Photo: HUBU Conference: Former Southwestern College Student Development Director Aaron Starck (back row, right) speaks at Southwestern College's Hermanos Unidos – Brothers United (HUBU) fifth annual conference. HUBU is a program designed to promote the personal and academic success of African American and Latino male students at Southwestern College.
CHULA VISTA, CA. – Southwestern College will join Minority Male Community College Collaborative's (M2C3) first consortium dedicated to improving and advancing the success of men of color as well as students from historically underserved communities.
Participation in the National Consortium on College Men of Color connects Southwestern College with community colleges across the country that share a commitment to improve collegiate success for men of color. As a member, Southwestern College leaders will access webinars and virtual discussion boards to learn new strategies and best practices to better support students. The college will also attend M2C3's annual working group meeting held in San Diego on June 9-10.
In the United States only 17 percent and 15 percent of Black and Latino men, respectively, earn a certificate, degree, or transfer from a community college to a four-year institution in six years, according to M2C3.
Superintendent/President Dr. Melinda Nish expressed interest in joining M2C3 because of the support that community can provide to Southwestern College's current efforts to improve the success of historically underrepresented and underserved students, including men of color.
"Joining M2C3 allows us to expand our ideas for how we can continue to transform the lives of men of color, and all underrepresented students," Nish said. "Joining this group of people and this organization is an important way to help close the achievement gap facing underrepresented men."
Governing Board President Nora E. Vargas echoed those remarks and called the collaboration an important way to connect with other leaders in higher education with a common goal.
"We look forward to learning and connecting with our colleagues across the country, learning from them and sharing our own efforts," Vargas said.