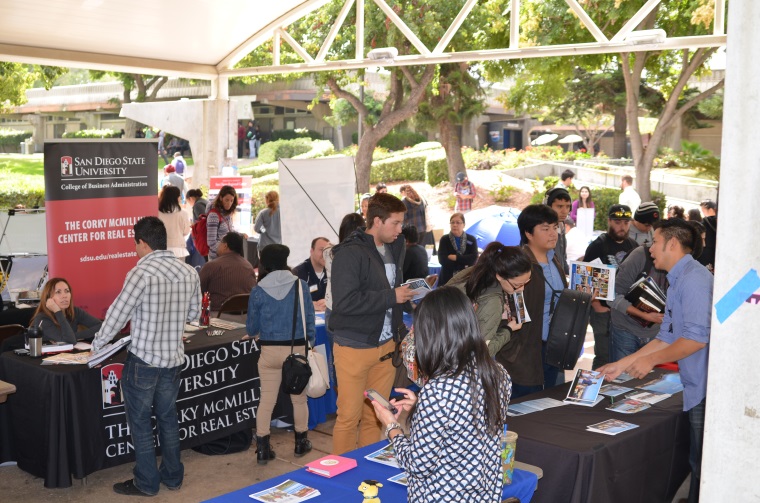 Photo: Students attending the annual Transfer Fair at Southwestern College
CHULA VISTA, CA – The number of Southwestern College graduates earning an Associate Degree for Transfer, which guarantees admission to the California State University system, increased 138% from 2013-14 to 2014-15, making it one of the greatest increases in the state, according to a new report by the Campaign for College Opportunity.
Graduating students had earned degrees in one of 23 majors through the Associate Degree for Transfer (ADT) program, which allows students to complete 60 units at Southwestern College and gain guaranteed admission to a CSU to complete an additional 60 units and a degree.
The Campaign for College Opportunity recently conducted a comprehensive, independent examination of the community college to CSU transfer pathway since the 2010 Senate Bill 1440 legislation that created the pathway. Since SB 1440 was enacted, community colleges and the CSU system have developed joint Transfer Model Curriculum to ensure an articulated alignment of courses that allows students earning ADTs to transfer to a CSU with junior standing. The report is the first to review the progress of the ADT pathway.
While the report, Keeping the Promise: Going the Distance on Transfer Reform, highlights ADT transfer data as of 2013-14, Campaign officials have updated their transfer data to include 2014-15. It is in the comparison between the two academic years that the Campaign for College Opportunity selected Southwestern College as one of nine High Performers in California. In 2013-14, Southwestern conferred 171 Associate Degrees for Transfer, but in 2014-15 that number grew to 407.
With 23 approved Associate Degree for Transfer majors, a 138% increase in transfers, and 407 ADT earners in 2014-15, Southwestern College achieved the criteria to be named a High Performer, said Audrey Dow, vice president for external affairs and operations. And the 138% increase was the largest increase of any of the nine high performing community colleges, Dow said.
Southwestern College has moved steadily and systematically over the last three years to increase opportunities for students by intentionally aligning our student success initiatives, said College Superintendent/President Dr. Melinda Nish.
"Our rapid development of ADTs, the concerted efforts of our counselors to ensure our students understand that ADTs are a pathway to success and the excellent work of our evaluators to promptly verify ADTs is a great cause for celebration," Nish said. "Our numbers demonstrate that our students are being successful with ADTs."
At 180 graduates, Southwestern College has the highest number of graduates of any community college in San Diego and Imperial counties entering San Diego State University in Fall 2015 through the ADT program, according to SDSU data. At 297 graduates, Southwestern College also had the highest number of students earning ADTs of any community college in San Diego and Imperial counties who were redirected to other CSU campuses in Fall 2015, according to SDSU data.
Southwestern College and the other eight High Performers, along with three earning honorable mention, will be recognized by Secretary of State Alex Padilla and other legislative leaders in Sacramento on June 2.
The Campaign for College Opportunity has partnered with Southwestern College to conduct Student Success Summits the last two years.
"The Summits have helped us focus on strategies we know help our students succeed," said Governing Board President Nora E. Vargas. "And key in the strategies have been efforts to not only attract students to Southwestern College, but also help them transfer to four-year universities."
Across California, the number of ADT earners has nearly doubled annually up to 20,646 ADT earners in 2014-15, Campaign data shows. The Keeping the Promise report showed that the ADT could be key in helping increasing diversity in the CSU population. While Latinos represent 34% of all transfer students from community college to the CSU, they represent 42% of all ADT earners.
The nine High Performing Colleges are: Southwestern College, Orange Coast College, Moorpark College, Diablo Valley College, Pasadena College, Fullerton College, Citrus College, Grossmont College and San Diego Mesa College.
Read more about the Campaign for College Opportunity 2016 Higher Education Champions for Excellence in Transfer.
Southwestern College honored for awarding more than 400 Associate Degrees for Transfer