CHULA VISTA, CA. – It's the quintessential next step—after high school, you go to college. At least that is what more than 600 Sweetwater Union High School District students thought on Tuesday as they stepped off the yellow school bus on to the Chula Vista Campus of Southwestern College.
College Preview Day was about to begin and students from every Sweetwater District school were being prepped to take in all the sights, sounds, majors and clubs Southwestern College has to offer.
Exiting the buses, students walked directly into the newly renovated DeVore Stadium to begin the day with a good, old-fashion pep rally. Students out-chanted others from rival schools, screaming their school pride as they tried to be the loudest section in the stadium.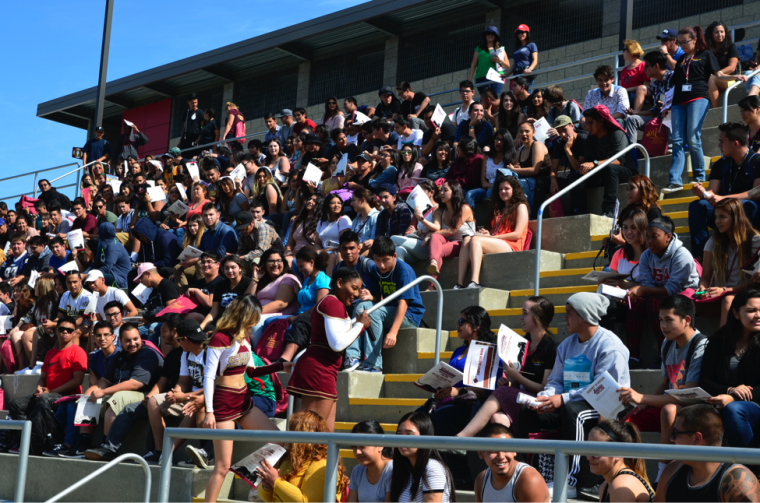 Photo: Students representing every Sweetwater District school partake in the morning pep rally in DeVore Stadium at Southwestern College's Preview Day.
After the vocal warm-up, students embarked on campus tours that displayed not only the new, high-tech facilities, but the tradition and honor that only a 55-year-old campus can display. Peer Advisors assigned to each high school played the part of tour guides, using their microphones to elaborate on points of interest and answer all of the questions of students.
"I'm here to learn all I can about the school," said Eddie Castro, senior at Hilltop High. "It has been a great hands-on experience to see what Southwestern has to offer."
Castro says he expects to be at Southwestern College next year and wants to study Hospitality and Tourism.
A sandwich and a few potato chips later, Sweetwater District students gathered at Jaguar Walk, the centralized hub of campus life at Southwestern College. Directly in front of the Cesar E. Chavez Student Services Center, dozens of booths were on display staffed by Southwestern College faculty and staff. Sweetwater District students gathered informational materials on their desired major, chatted with professors and explored other programs of interest to them.
Future Jaguar and Hilltop High senior Oscar Benitez is making Southwestern College a family affair and wants to enter the Criminal Justice Program next year.
"My brothers went here, so I'm following in their footsteps," said Benitez. "With the Criminal Justice major, maybe a career with the Border Patrol. I think that would be fun and interesting."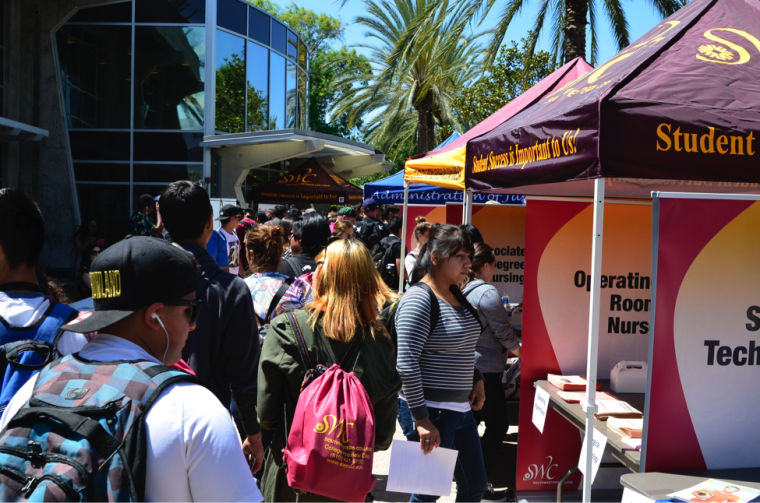 Photo: Every Southwestern College program was on display during College Preview Day. Sweetwater District students visited booths that interested them and talked to faculty who teach the courses.
Students strolled down Jaguar Walk to Mayan Hall Theatre where a congregation of student clubs was on display in the Festival of Nations. Colorful displays and choreographed performances showed Sweetwater District students all the fun they can have by participating in extracurricular activities.
As the day ended, Sweetwater District students headed towards the line of yellow school buses waiting to take everyone back to their schools. Nobody left empty handed. Southwestern College drawstring bags were full of merchandise and information pamphlets students collected throughout the day.
Many of these seniors will return in the fall as freshmen, and many of the same professors they met today will greet them at their first class.