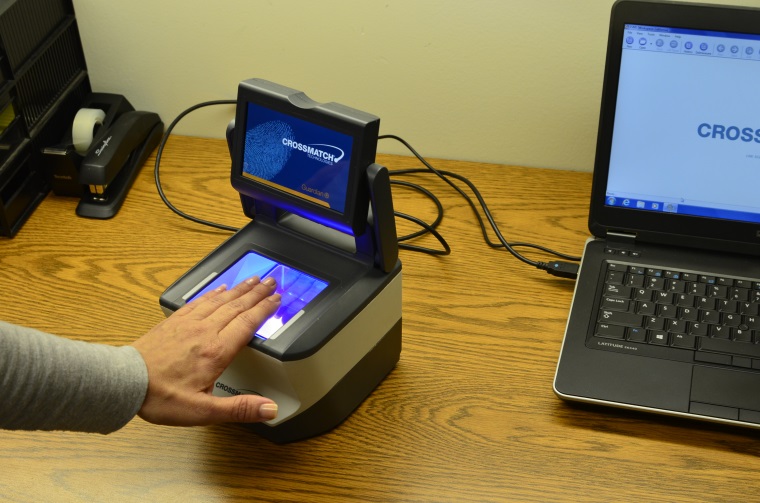 Photo: Live Scan fingerprinting services are now being offered at Southwestern College
CHULA VISTA, CA. – The Southwestern Community College Police Department is now offering Live Scan fingerprinting services to the general public, much to the relief of a growing number of South County job applicants with limited opportunities to access the technology needed for a security clearance.
"There is a huge demand for this kind of service," said Southwestern College Police Chief Michael Cash. "We anticipate serving a significant portion of the educational and the professional communities in the eastern areas of Chula Vista."
Southwestern College is now just one of two community college districts in the county to offer the service, a primary tool used by teachers, caregivers, health professionals, security guards and others when undergoing background checks.
"We're doing a lot of hiring here at Southwestern College, and we've been sending people all over the place to get their fingerprints checked," Cash said. "Having a Live Scan service on campus will provide an immense benefit."
Appointments are not necessary. Live Scan office hours are Monday through Thursday from 8:30 a.m. to 4:30 p.m., and on Fridays from 8:30 a.m. until noon. The Southwestern College Police Department is in Building 105-D at the Chula Vista Campus, 900 Otay Lakes Road.
Those seeking a Live Scan fingerprint check must bring proper identification, such as a state-issued driver's license or identification card. The Basic Live Scan fingerprints fee for a state Department of Justice clearance is $50. Clearances requiring an FBI review are $67. Personal checks are not accepted.
This service is one more way to serve the community, said Governing Board President Nora E. Vargas.
"We saw a workforce need, and we are doing our part to strengthen community and business partnerships," Vargas said.