CHULA VISTA, CA – The Southwestern College campus is now tobacco free thanks to a policy adopted by the Governing Board. The new non-smoking policy is not just for traditional cigarettes. Smokeless tobacco, or, chewing tobacco and e-cigarettes, better known as vaporizers, are also included in the banned substances.
To help spread the word, the District has added new permanent signage throughout all campus locations and hung posters in campus buildings. Promotional materials from the American Lung Association are also available to interested students. The Associated Student Organization (ASO) and Southwestern College Health Services have hosted events to promote awareness of the new smoke-free policy and provided resources to help students ditch their tobacco and nicotine habits.
The first of these events, The Great American Smokeout, took place last fall on Jaguar Walk. Representatives from the ASO and Health Services helped interested students gather information and resources to quit smoking. The Great American Smokeout is a nationwide event originally started by the American Cancer Society to focus on the importance of getting smokers to quit.
"Health Services is pleased that the district has moved to a non-smoking campus," said Southwestern College Campus Nurse Grace Cruz, RN, MSN. "A smoke-free campus will help create and promote a healthy and accessible environment for students, faculty, staff and visitors."
Violators of the smoke free-policy may be issued a citation and fine by the Southwestern College Police Department. For now, police are handing out business cards that have a list of smoking cessation programs at Southwestern and in the community.
Southwestern College joins a growing list of higher education institutions that have gone tobacco free in recent years. Students who are interested in quitting tobacco products can access more information in the Student Health Services office located in the Student Center, building 600.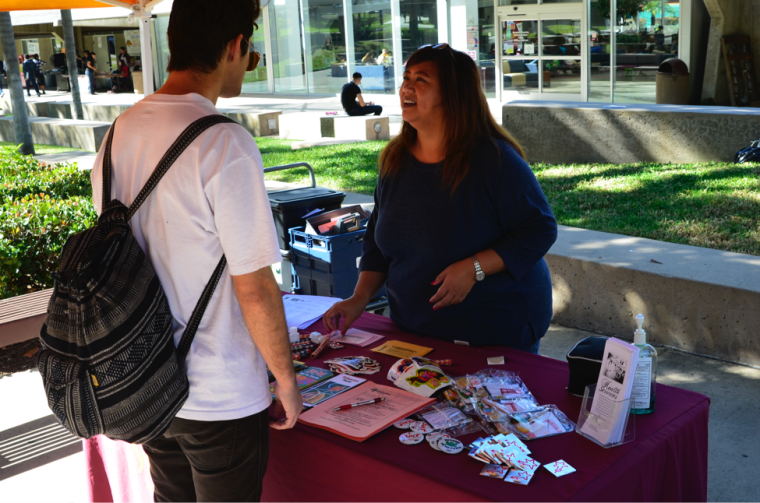 Photo: During the Great American Smokeout event, Southwestern College Campus Nurse Grace Cruz, RN, MSN talks to a student about the smoke free policy and resources available from Health Service.