CHULA VISTA, CA. – Many Southwestern College students have vivid memories of the Mexican drug violence in the region, and its impact was evident recently when Director Charles Minn screened one of his films, "¿Es el Chapo?"
Students packed the auditorium earlier this month to watch the film projected on the big screen. Some students were there for classes, some were there to catch a free movie and some were there to learn more about a person they are far too familiar with – infamous Mexican drug lord Joaquín "El Chapo" Guzmán.
Eighty minutes later the screening ended, the lights turned up, and students raised their hands waiting to be called on by Minn . Students wanted to hear about his time in Mexico filming the documentary and if he ever felt his life was in danger.
"I guess there was risk," said Minn. "But not pursuing a part of the story because of that risk would compromise my role as a filmmaker."
More hands rose as Minn elaborated on the making of the film. A student in the audience wanted to hear more about a scene where Minn and his crew visit Guzman's hometown of La Tuna, Mexico. Minn and crew walk right up to Guzman's house with seemingly no guards, security or disruption.
"We easily could have been eliminated that day," Minn said. "My crew are the bravest people in the world."
Minn added more detail about that section of the film,saying they had worked behind the scenes with local officials to have a somewhat safe situation in which to film.
Some students provided personal experiences about the drug war to Minn and the audience. Applause broke out after each emotional story was shared.
"¿Es el Chapo?" dives into the world of Mexico after drug lord Joaquín "El Chapo" Guzmán is arrested in 2014. In the film, Minn travels around various cities in Mexico controlled by Guzman's Sinaloa Cartel, Guzman's hometown of La Tuna, and the popular tourist town of Mazatlán where Guzman was arrested in 2014.
Throughout the film, Minn polls citizens about whether they believe it was actually Guzman who was captured. Speculation of the authenticity of the arrest arose since Guzman was captured with no resistance. He usually has an armed guard and reportedly up to 200 people protecting him at all times.
At the time, a majority of the Mexican population did not believe it was Guzman who was captured, but rather a body double. The film showed many Mexican people praising Guzmán, saying he was everything the Mexican government was not-providing jobs, money and security to an impoverished area. The praise for Guzmán was strong even though he is estimated to be responsible for 60,000 deaths.
After the film was released, Guzmán escaped from the Mexican prison in which he was initially held. In January 2016, Guzmán was recaptured.
Minn was on campus not only to screen "¿Es el Chapo?," but also to promote his newest film "Mexico's Bravest Man," which aired at the UltraStar Mission Valley Theater on April 10.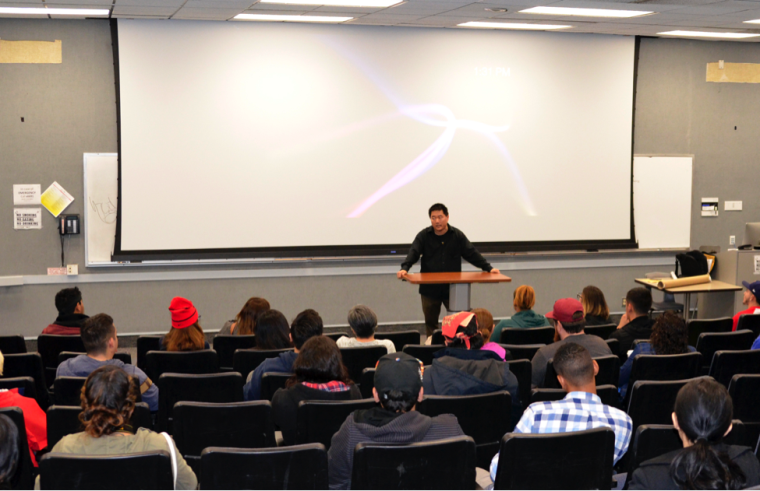 Photo: Director Charles Minn takes questions from Southwestern College students after a screening of "¿Es el Chapo?" his film about the capture of infamous Mexican drug lord Joaquín "El Chapo" Guzmán.