CHULA VISTA, CA. – The Sixth Annual Phi Theta Kappa Car Show rolls into Southwestern College this March and will bring free family fun while raising money for the college's Phi Theta Kappa chapter.
More than 100 show vehicles will be parked in the shade under the new photovoltaic panels in Parking Lots B & C at Southwestern College. Hundreds of spectators are expected for the free event and they will get a glimpse of all types of vehicles from classic American muscle cars to late-model motorcycles.
The Southwestern College chapter of Phi Theta Kappa and Classic Sweeties of Southern California will host the auto show and proceeds will go towards sending Southwestern College students to the Phi Theta Kappa International Conference in Washington, D.C.
Phi Theta Kappa Advisor Myriam Moody has been organizing the Car Show for six years and credits her students for the show's success.
"It's a lot of work, this show would not go on without the support of the entire chapter," said Moody. "We appreciate the support we have received in the past from all the participants and spectators."
The Car Show will be on Saturday, March 19 from 9 a.m. – 2 p.m. Pre-registration is still open (registration form) now for a $20 fee. You can also register your vehicle the day of the event for a $25 fee. The first 120 registered vehicles will receive a goodie bag and dash plaque. Nearly 120 vehicles participated in last year's event and awards will be given to 20 vehicles, including the "Best in Show" award.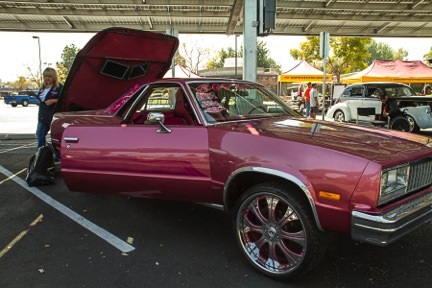 Photo: A custom Chevrolet El Camino on display during the 5th Annual Phi Theta Kappa Car Show last year. Registration for the 6th Annual Car Show is now open.