CHULA VISTA, CA. – Contractors will haul 12,000 cubic yards of fill dirt onto the vacant corner lot of Southwestern College over the next two weeks as work quickly progresses on the new Wellness and Aquatic Complex.
Beginning Saturday, Feb. 6 and running through Monday, Feb. 22, nearly 143 trucks per day will enter the college's Chula Vista campus to dump the clean dirt as a foundation for the two 50-meter pools and a third therapy pool.
The trucks will come from Interstate 805, travel down East H Street and turn into the Otay Lakes Road entrance of student parking Lot O.
To accommodate the truck traffic, the parking Lot O entrance off Otay Lakes Road will be closed to normal traffic. Signage will be placed near the entrance instructing students and staff to use the main Otay Lakes entrances to the campus on Elmhurst and Gotham streets. A flagman will also help mitigate a safe crossing for pedestrian traffic.
The Otay Lakes Road entrance into parking Lot O is expected to reopen to student and staff traffic on Monday, Feb. 22.
The construction of the new $52 million Wellness and Aquatic Complex is funded by Proposition R, the college's $389 million general obligation bond approved by voters in 2008. The multi-story building will house a gymnasium that can convert to a 2,500-seat auditorium. It will also contain seven fitness classrooms and faculty offices. The facility will replace the district's aging gym and pools—which will be demolished this summer to make way for a new math, science and engineering complex.
The dirt is being brought in from a single source project on the corner of 13th and F streets in San Diego.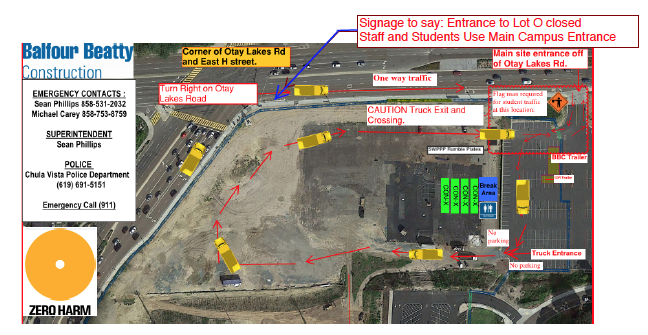 PHOTO: Map of the routes the construction vehicles will take as they enter parking Lot O on the Southwestern College Chula Vista Campus. The Otay Lakes entrance into the parking lot will be temporarily closed while this work takes place. Signage and flagman will be present to help with vehicle and pedestrian traffic.