CHULA VISTA – California's drought is giving Southwestern College new ways to keep the campus beautiful while slashing the college's ecological footprint.
From installing a computerized irrigation system that can reduce water use by more than 30 percent to building the largest solar array on an educational facility in the SDG&E service area, Southwestern College has embraced conservation.
"We're not only saving a lot of money, we're doing our part to protect the environment," said Jose Machuca, an irrigation technician at the college.
Conservation is occurring while the college undergoes significant expansion funded by Proposition R, a $389-million, general-obligation bond that voters approved in 2008.
Among the projects was a new four-story, Fieldhouse/Classroom building that includes a 150-seat lecture hall, a training facility and modern locker rooms that opened in August of 2014. The building captured the coveted LEED (Leadership in Energy & Environmental Design) Gold certification that recognizes best-in-class building strategies and construction practices. The fieldhouse also won San Diego's Project of the Year from the Construction Management Association of America and the Outstanding Project in the Sustainable Engineering Project category by the American Society of Civil Engineers, San Diego Section.
Included in the $25-million project was a new artificial turf field at DeVore Stadium. Combined with a new football practice field and a soccer field, both with artificial turf, the college is expected to save 1 million gallons of water annually.
"Southwestern College is working diligently to do our share as a responsible member of the community, and we continue to look for innovative solutions to address the serious environmental challenges we're facing," said Mark Claussen, Southwestern College's Proposition R Program Director.
Perhaps the biggest impact is coming through the installation of a new Calsense irrigation system that remotely accounts for shade, atmospheric conditions, residual moisture and more before the sprinklers come on. The system also shuts off automatically when a pipe breaks or the rain begins to fall. With approximately 70 percent of water piped to Southwestern College now used to irrigate the 156-acre campus, administrators forecast water use to fall by 60 percent or more once installation of the Calsense system is completed. Replacing sprinkler heads so that less water is lost to the atmosphere can save an additional 20 percent, Machuca said.
What's more, Southwestern College is replacing grass in many areas with drought-tolerant landscaping. Designs for the new Math, Science & Engineering Building and at a new Wellness Center and gymnasium—both slated for construction this spring—will also include conservation measures.
"All the new landscaping going in will be native or drought tolerant," said Claussen, who added that the Wellness Center and Math, Science & Engineering building will contain cisterns and other water gathering measures to collect rainfall and condensation from the air conditioning system. That water will be used for irrigation purposes.
In addition, Southwestern College is working with the Otay Water District to bring reclaimed water to the cooling tower for the district's new heating and air conditioning central plant, which will save up to 65,000 gallons of water a month. It will mark the first time that reclaimed water will be used on the campus, and the construction of purple pipes opens the door for reclaimed water to be used for future landscape irrigation.
"They're really working hard to save water in a lot of areas," said Dan Martin, engineering manager at the Otay Water District. "It's quite impressive."
Perhaps most impressive is how much energy Southwestern College is generating from solar panels that also provide shade for cars on the Chula Vista campus' parking lots. The panels generate 3-megawatts of electricity, making it the largest system of its kind for an educational facility in the SDG&E footprint.
"We're generating a huge amount of electricity to meet the Chula Vista campus' needs," Claussen said.
And saving a huge amount of money. The 7,370, SunPower solar panels installed at campus parking lots are reducing energy bills by up to $660,000 annually and approximately $70,000 per month during the peak summer period. According to estimates provided by the U.S. Environmental Protection Agency, the solar power systems installed at Southwestern College reduce the amount of carbon dioxide emissions by 2,600 tons annually, or the equivalent of removing almost 13,000 cars from California's roads over the next 25 years.
The $13 million project was funded by Proposition R.
"It makes sense to use the clean, renewable resource of the sun to power our college sustainably," said Dr. Melinda Nish, superintendent/president of Southwestern College, when the system was activated in November of 2014. "We think this is an investment of Proposition R dollars that will continue to pay dividends for the college community for many years to come."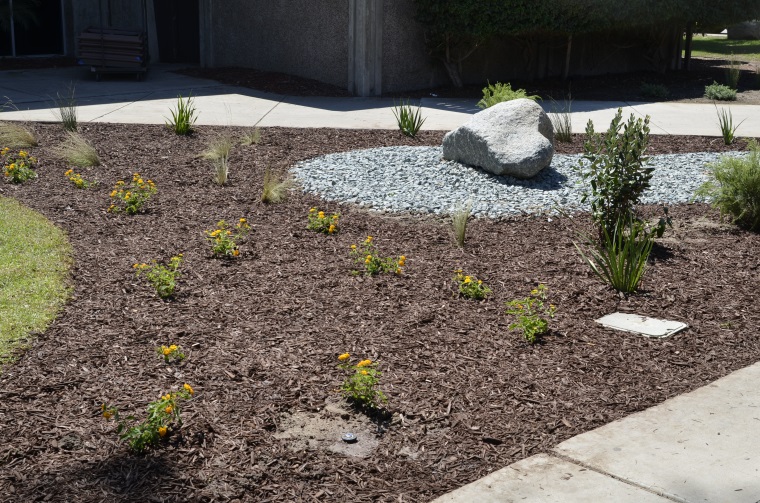 Replacing grass: Southwestern College gardeners artfully replace grass with native vegetation, rocks and sculptures.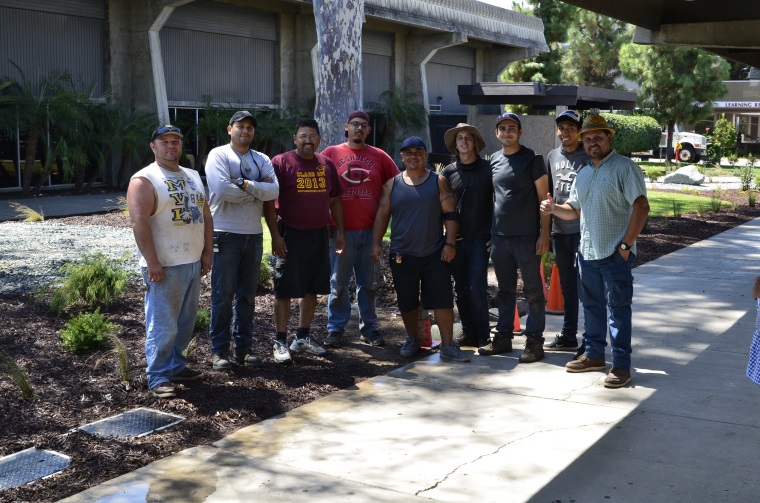 Taking pride: Southwestern College's team of gardeners and maintenance workers take pride in their handiwork.