Update:
On July 6, 2015 the perimeter road will be closed from the LRC building 620 to building 650. Parking lots K, M and N will also be closed. The East H Street entrance will be open and traffic will be detoured through parking lot J (see map below).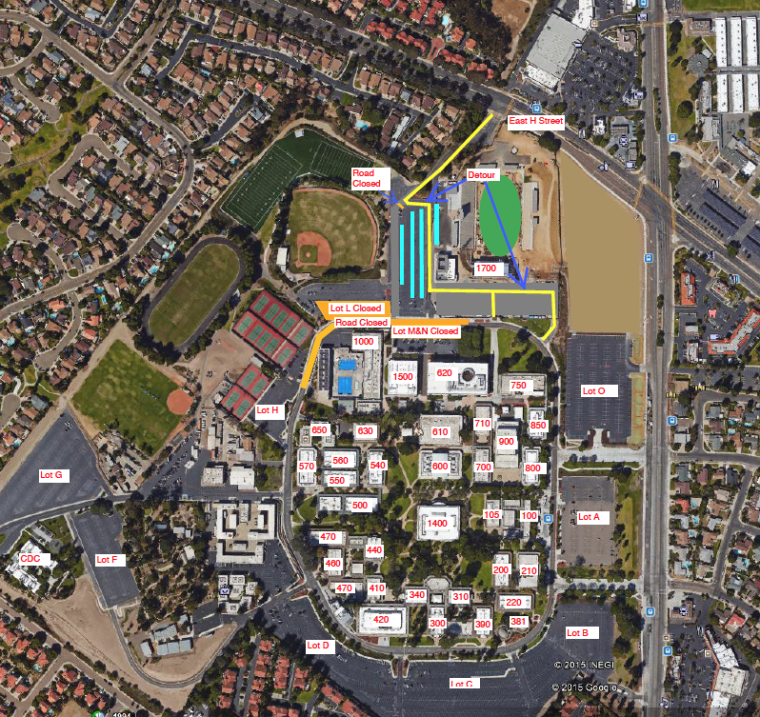 CHULA VISTA – Dust off your hardhats – Proposition R parking lot and road construction starts in May.
Beginning Friday, May 1, parking lot O will be partially closed as workers lay new pipe for future Proposition R construction. Lot O construction is scheduled to be finished by May 22.
A section of perimeter road south of the Gotham Street entrance and a section of the eastside of parking lot J will be closed from June 1 to June 26.
The H Street entrance, a section of perimeter road stretching from the library to room 660, and parking lots I,K,M and N will be closed from June 27 to August 21.
Overflow parking will be available in the dirt lot north of parking lot O for the duration of construction.
For more information on Proposition R visit http://www.swccd.edu/propr.