CHULA VISTA – A group of students and veterans applauded as Nick Popaditch, US Marine Corps Gunnery Sargent, Retired, took center stage in the Veterans' Resource Center of Southwestern College earlier this month. Popaditch, a Silver Star and Purple Heart recipient, wasted no time in diving into his war stories. The same stories he also compiled in his memoir, "Once a Marine."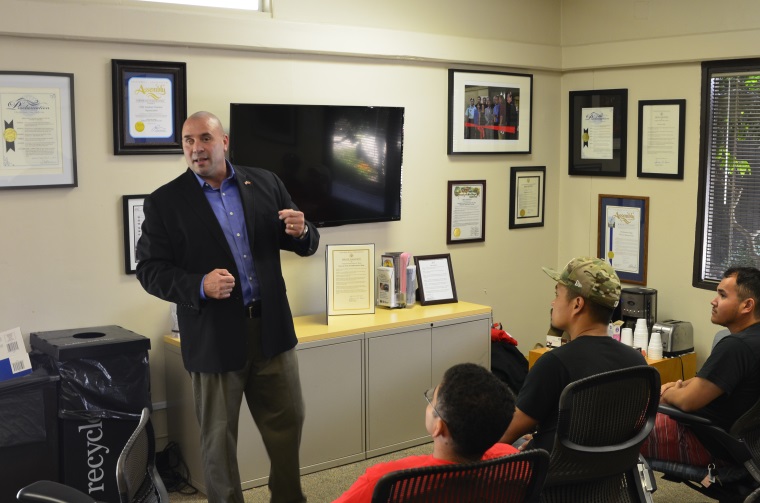 Photo: Nick Popaditch, U.S. Marine Corps Gunnery Sergeant, Retired speaks to an audience of Southwestern College students and student veterans in the Veterans' Resource Center.
Popaditch is also known as the "Cigar Marine," due to the highly published photo of him smoking a cigar in front of the Saddam Hussein statue—the same statue that was quickly torn down after the United States controlled Baghdad, Iraq, in April 2003. Popaditch was part of the tank team that helped pull down the statue.
Popaditch spoke about how he lost vision in his right eye due to shrapnel from an enemy rocket-propelled grenade in the first battle of Fallujah.
After his retirement, Popaditch went to school and graduated from the San Diego community college system and San Diego State University. He offered some words of advice to the student veterans in the audience.
"You assign meaning to things in your life; don't let anybody take that meaning," said Popaditch.
In the front row of the audience sat Southwestern College Political Science major and U.S. Marine Corps Veteran Alex Rosado who knew of Popaditch before the book-signing event.
"You hear stories of Mr. Popaditch while in the Marines," said Rosado. "He had to overcome serious obstacles. Everybody let him down except for the Marines."
Also in the audience was Patrick Manaig, a Southwestern College student veteran who served four years in the U.S. Army.
"I was very inspired about the things one can go through and the mentality he had to go through it," said Manaig.
Popaditch closed by expressing that some of the most meaningful and important things in his life came in the classroom, not on the battlefield.
"Always find the truth," said Popaditch. "Translate your Marine skill set into college skills."
After speaking, he signed copies of his books and met fellow veterans who were in the audience.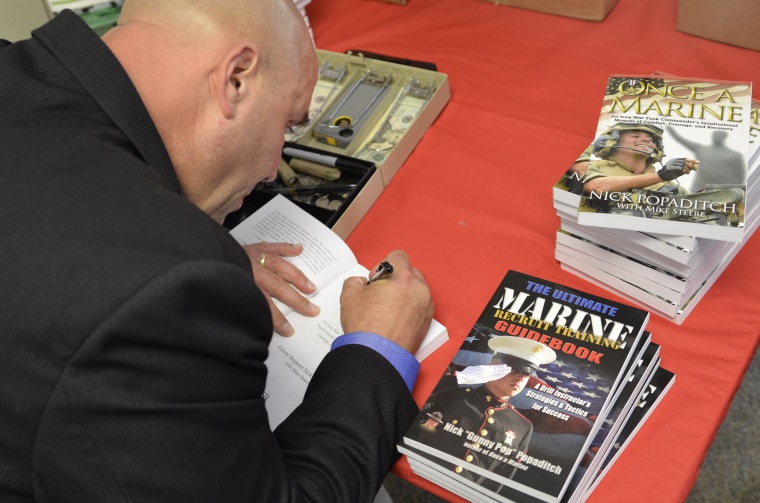 Photo: Retired U.S. Marine Corps Gunnery Sergeant Nick Popaditch signing a copy of his memoir "Once a Marine."