NATIONAL CITY – The South San Diego Small Business Development Center will be able to increase services to small business owners, thanks to a $50,000 grant from Wells Fargo Bank.
In a check presentation ceremony Jan. 20, Wells Fargo San Diego Area Bank President Ernesto Arredondo said the grant is part of the bank's commitment to the betterment of the small business community.
"Wells Fargo is committed to supporting the financial needs of our communities," Arredondo said. "The grant will provide much needed services to small businesses that are the backbone of our local economy. At Wells Fargo we say, 'Small is Huge,' and we are proud to support all of the efforts of the San Diego Small Business Development Center in helping local businesses succeed."
Arredondo presented the check to Southwestern College Superintendent/President Dr. Melinda Nish at the regular Advisory Board meeting for the San Diego – Imperial Valley Regional Small Business Development Network. South San Diego SBDC is one of three centers serving the border counties in California.
"These funds will help us to serve additional businesses in the San Diego region," said Aleta Wilson, San Diego – Imperial Valley SBDC Regional Director. "At the South San Diego SBDC, we are committed to helping entrepreneurs achieve their goals by starting and growing their businesses. Our team of Business Advisors has a wealth of knowledge and experience to help small business owners in all areas."
In addition to Arrendondo, Wells Fargo was represented by Wendell French, VP Community Development Officer; Daniel Stracener, District Manager; and Luis Gonzalez, Assistant VP Regional Corporate Communications.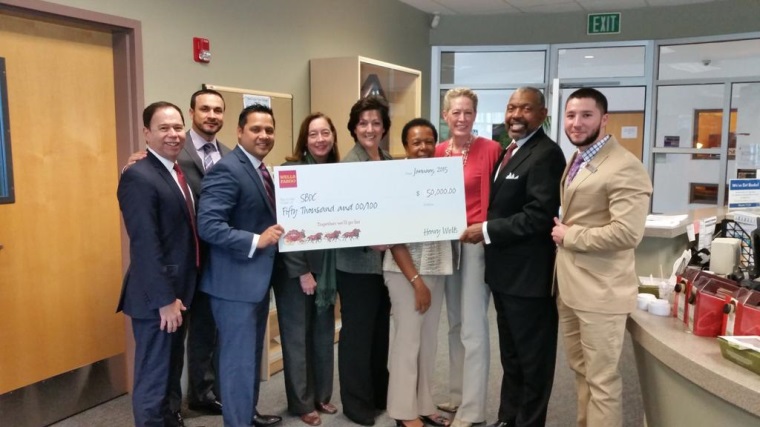 Pictured left to right: Daniel Stracener, Wells Fargo; Rene Ronquillo, Wells Fargo; Ernesto Arredondo, Wells Fargo; Kathy Tyner, Vice President of Academic Affairs, Southwestern Community College District; Chris Perri, Dean, Higher Education Center-National City, Southwestern Community College District; Aleta Wilson, SD-IV SBDC; Dr. Melinda Nish, Superintendent/President, Southwestern Community College District; Wendell French, Wells Fargo; Jamie Gonzalez, Wells Fargo
###
About SBDC
The San Diego – Imperial Valley Regional SBDC Network is funded in part by the U. S. Small Business Administration. The Network is hosted by the Southwestern Community College District. Network services are provided by the South San Diego SBDC Center in National City, the North San Diego SBDC Center in Oceanside, and the Imperial Valley SBDC Center in El Centro. For more information please visit http://www.sdsbdcnetwork.org/