Dark robes and decorated mortarboards filled Sleep Train Amphitheater as graduates celebrated Southwestern College's 53rd annual commencement Tuesday.
Nearly 1,900 Jaguars received diplomas or certificates this year, which Superintendent/President Dr. Melinda Nish said was amongst the largest in the College's history.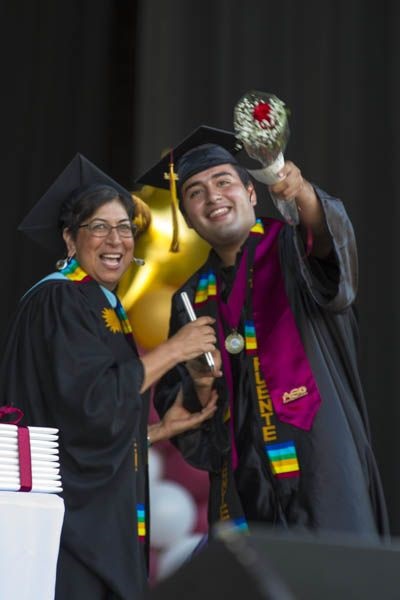 PHOTO: Presenter Sylvia Felan Gonzales handing student Manuel Gonzalez his degree during the Southwestern College Commencement Ceremony on June 3, 2014
Nish called the commencement a milestone for the graduates, and said she was proud of the hard work they had all shown.
"Over the last several weeks, I have listened to awe-inspiring stories of students overcoming personal obstacles and celebrating success on their way to today," she said. "Many of you have found your calling here. I encourage you all to continue seeking the paths that will allow you to realize your dreams and I encourage you to be bold in your future endeavors."
Vice President of Academic Affairs Kathy Tyner said the graduating class had made the faculty proud, both in their academics and outside the classroom.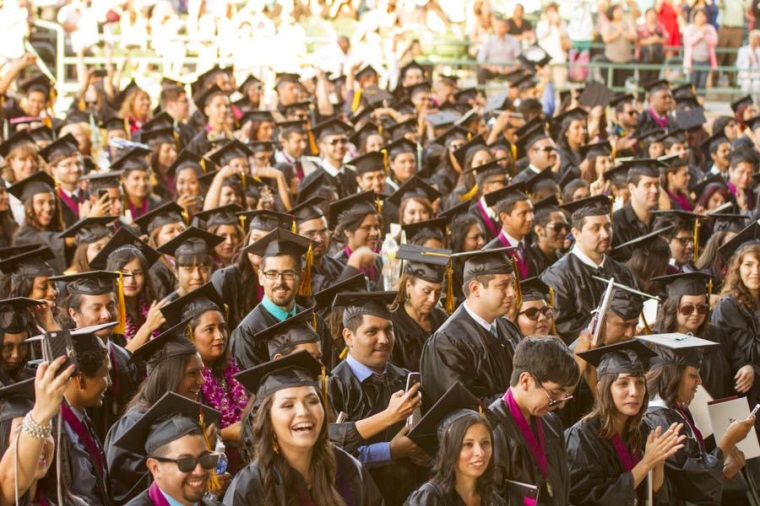 PHOTO: Graduates sit together for the last time as Southwestern College students at the 2014 Commencement Ceremony.
"They have made us proud with their accomplishments and the recognition they have earned from organizations big and small – locally and statewide," Tyner said. "We are confident in turning the future over to these amazing graduates."
Governing Board President Terri Valladolid said "congratulations" and "good luck" in five different languages, and recounted tales of how Southwestern College has changed many students for the better.
"Throughout my time on the board I have seen students transformed," Valladolid said. "Over and over again I have heard stories about how students said they didn't believe in themselves before starting here. Those same students said that if it hadn't been for the caring faculty who took interest in them, a counselor who spent extra time mapping out their academic plans, or staff members who gave them a smile or a hug when they needed it the most, they would not have graduated."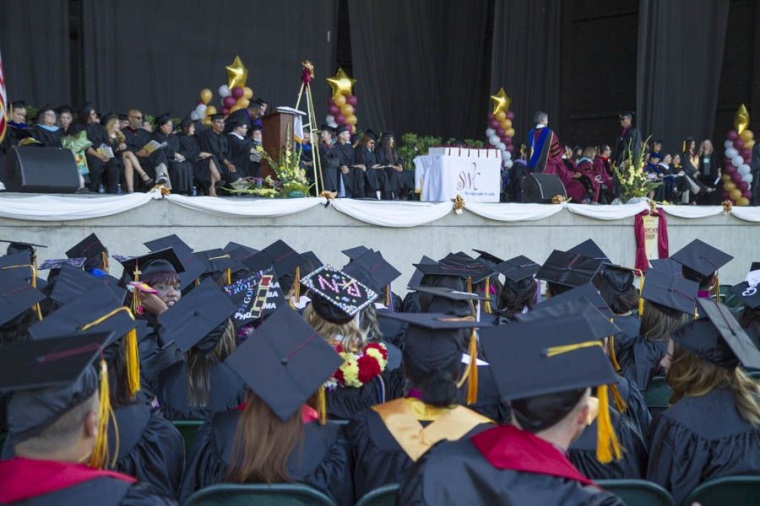 PHOTO: Graduates watch fellow students walk across the stage to receive their degrees. More than 625 students took the walk.
The two honorary degree recipients, Dr. Irv Silverstein and William Virchis, spoke to the students about the importance of education, that they should always surround themselves with people who will motivate them to be their best and that no matter what your background, higher education is achievable.
Silverstein is a dentist who works tirelessly to bring dental care to the less fortunate both at home and abroad. Virchis is a former Southwestern College educator, a nationally acclaimed director and actor, and has been a role model to South Bay students.
Visit http://www.swccd.edu/apply for more information on taking courses at Southwestern and earning a degree or certificate.