NATIONAL CITY – Southwestern College's National City Higher Education Center hosted exclusive interviews with the producers of the ABC show "Shark Tank" last week. More than 100 small business owners—who are clients of the college's Small Business Development Center or of co-host San Diego Entrepreneur Center—huddled in the waiting room ready to show off their wares and compete for a chance of a lifetime.
As soon as the producers arrived, the attendees were whisked into an interview room with two other applicants and were given one to two minutes to make their product stand out.
They came. They saw. They pitched.
William Bowen sought funding and exposure for "Go-Go Dog Pals," a remote-controlled dog toy used to give dogs a work out.
"For me it's all about exposure," said Bowen. "Being first to market with something like this is great, but you also have the girdle that no one knows it's out there."
Bowen was also looking forward to the years of business experience the "Sharks" have.
"There's a lot of experience on that judge's panel," he said. "So getting that exposure to a broader audience, but also that type of knowledge, is invaluable."
Bowen said the company wanted to bring technology into the dog toy world. The toy plays to a dog's natural instinct of chasing and herding animals, while also helping dog owners who may be too tired to play with their dog.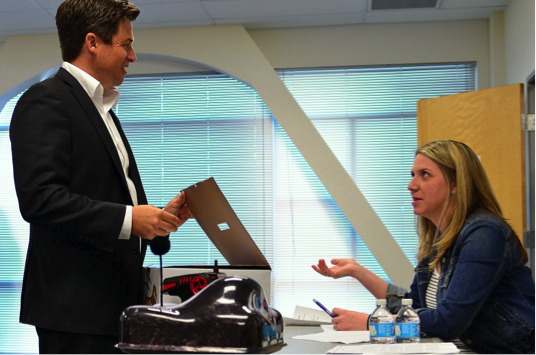 Photo: William Bowen shows off the "Go-Go Dog Pal" to an ABC producer before test driving it around the conference room.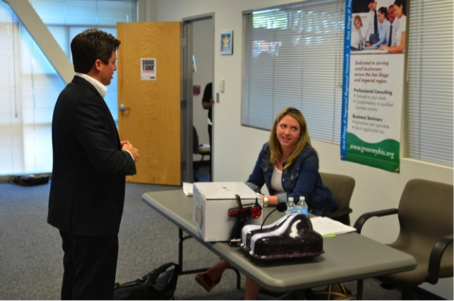 Attendees were pre-screened and registered on a first-come, first-served basis. Each of them was given one to two minutes to pitch their product and each was asked what they would want from the "Sharks" if chosen.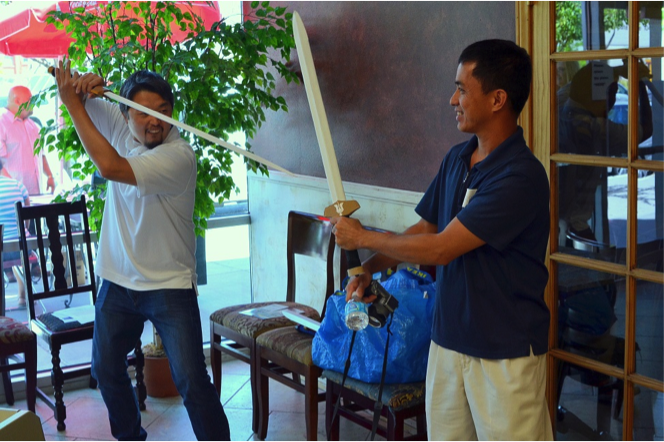 Photo: How-Lun Chen and Terry Fojas spar with corrugated cardboard model swords. Chen's company Crafteeo produces DIY schematics for cardboard crafts for children and adults.
Products shown to the producers included an advertising Kiosk, model swords and adventure games.
Ilene Tupman, the creator of 100 percent culturally accurate Hawaiian board games "Pele's Perils" and "Ohana Mana," said her games were already being sold in Hawaii and on the mainland, but wanted the Sharks to help her expand into a larger market.
Tupman said her games were entirely made in the United States, and designed to withstand the humidity of the Hawaiian Islands.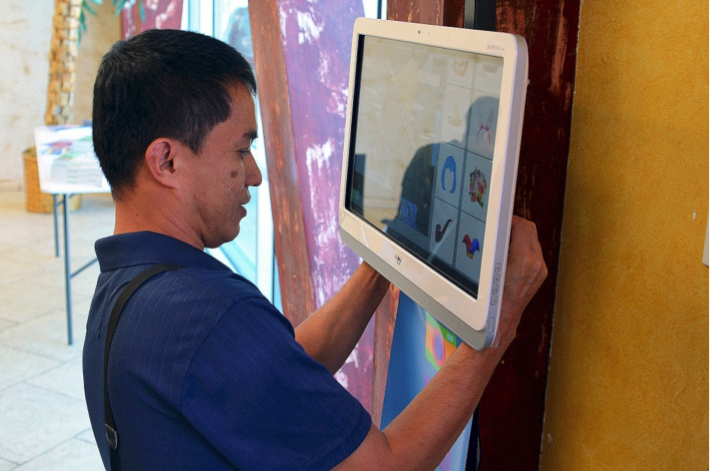 Photo: Terry Fojas shows off the "Selfiekiosk," an interactive monitor that can be used for digital advertisement, a lobby greeter, or social media campaigns. Fojas said he was hoping to develop more apps for the kiosk
Southwestern College's Small Business Development Center, a co-sponsor to the event, has been helping local small business professionals for over 20 years.
They are located at the National City Higher Education Center in suite 103.
For more information on Southwestern College's Small Business Development Center visit: http://www.growmybiz.org/.