Social justice poet and college professor Sonia Gutierrez kicked off a half day of binational poetry readings Tuesday as part of Southwestern College's four-day Spring Literary Festival.
Author of Spider Woman, La Mujer Araña, Gutierrez read from this—her debut bilingual book of poetry. In between poems of undocumenteds being deported, memories of her mother and her birth as a Chicana feminist, Gutierrez told her story of finding her voice.
"It's fascinating where writing can take you," Gutierrez told the room full of students. "I realize now that I was very passionate as a student. Years later when I was writing poetry, those college years were where I found my voice."
Following Gutierrez' presentation, students were treated to Baja Poetry—Live, a bilingual poetry reading with the Binational Project "Acanto y Laurel." Participating poets were Daniel Salinas Basave, Jose Lobo, Nestor Robles and Jonnathan Curiel. The event was held in collaboration with the Centro Cultural Tijuana (CECUT).
The day ended with various poets from the Tijuana/San Diego region reading from Marca Frontera/Border Mark—the bilingual edition of the 2013-14 San Diego Poetry Annual. The poetry reading was presented by the annual's editor Bill Harding and editor/translator Olga Garcia. The San Diego Poetry Annual is now part of the permanent college of every college and university library in the San Diego region as well as city and county libraries.
Leading the third day of the festival Wednesday, April 9, will be poet, novelist and performance artist Tim Z. Hernandez. Hernandez is on a national tour for his newly released novel, Mañana Means Heaven.
The fourth day of the festival will be held May 5 and provide workshops on writing science fiction novels and graphic novels.
On Monday, the first day of the festival, Mel Freilicher read from his latest book, The Encyclopedia of Rebels.
The Spring 2014 Literary Festival is a labor of love coordinated by Southwestern College English professor Francisco Bustos and is sponsored and supported by the Southwestern College Foundation, Poets and Writers Inc., the Southwestern College English Department and the School of Language and Literature.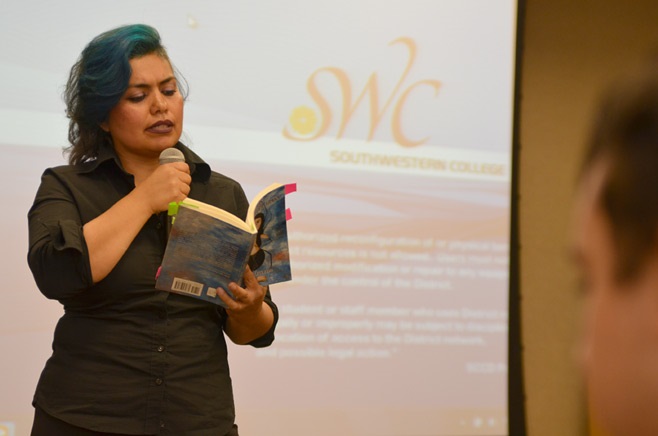 Spider Woman: Author Sonia Gutierrez reads from her debut book of bilingual poetry, Spider Woman, La Mujer Araña.