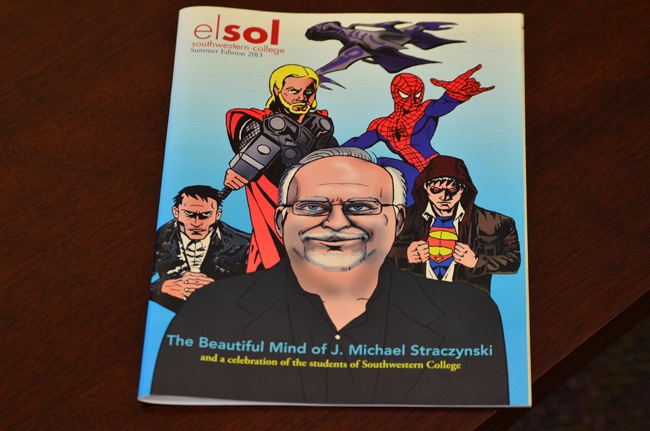 PHOTO: The El Sol magazine celebrates Southwestern College's success, and is rewarded with its own national award. Cover drawn by Joaquin Junco.
Many across South County know Southwestern College's student-run newspaper, The Sun, has been the recipient of multiple national, statewide and local awards over the years. Now another Southwestern College student publication has joined the party.
El Sol, a yearly magazine produced by Southwestern College Sun staff, won the American Scholastic Press Association of New York's most outstanding community college general magazine for 2013 award with a record 990 out of 1,000 points possible.
"El Sol is an amazing publication," said the judge's comments. "You (El Sol) have mastered not only the elements of a good publication, but you have also published excellent works from your school population. El Sol is a model for those up-and-coming magazines and inspiration for those magazines that haven't quite aced the necessary skills."
Dr. Max Branscomb, advisor to The Sun and El Sol, said he was proud of his students and El Sol's craftsmanship was nothing short of grand.
"I am very proud of these students and the others who worked so hard on the magazine," he said. "I particularly liked this issue of El Sol because it was so upbeat and celebratory of Southwestern College and its alumni. It also has a spectacular hand-drawn cover by our gifted staff artist Joaquin Junco."
Southwestern College Superintendent/President Dr. Melinda Nish congratulated the students for their effort.
"Our journalism department is among the best in the nation, and our students continue to produce work of the highest quality," Nish said.
El Sol is available for free in The Sun offices, room 640.