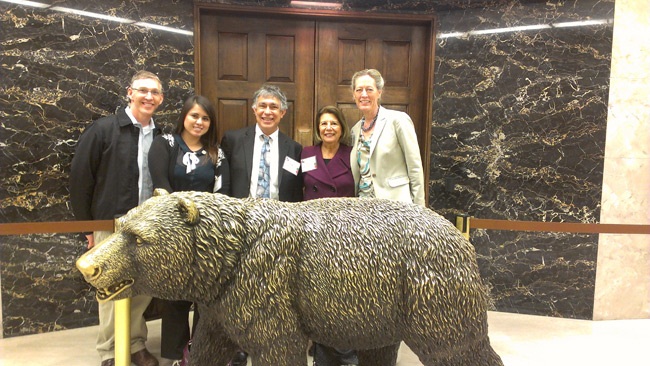 PHOTO: Southwestern College leadership head to Sacramento for Community College League of California conference and to advocate support for the governor's budget. L-R Academic Senate President Randy Beach, Student Trustee Laura del Castillo, Governing Board Member Tim Nader, Governing Board Member Norma Hernandez, Superintendent/President Dr. Melinda Nish.
SACRAMENTO – It was a more upbeat mood than the past four years when representatives from community colleges in San Diego and Imperial counties met with state legislators this week to advocate for funding and programs benefitting the more than 140,000 students who attend the nine colleges in the region.
The November 2012 passage of proposition 30, a temporary statewide tax supporting education, has eased the budget crunch that forced the colleges to eliminate hundreds of class sections and turn away thousands of students. Although the colleges still have not returned to 2008-2009 funding levels, the improved budget situation has allowed them to add classes, offer winter intersession courses, and hire more faculty.
CEOs, trustees, students and faculty from the community colleges in the two-county area—Southwestern, Cuyamaca, Grossmont, San Diego City, San Diego Mesa, San Diego Miramar, MiraCosta, palomar and Imperial Valley—met with their legislators as part of the Community College League of California's annual legislative summit. The group met with incoming Assembly Speaker Toni Atkins; Assembly members Rocky Chavez, Lorena Gonzalez, Brian Jones, Manuel perez, and Shirley Weber; and state senators Marty Block, Ben Hueso and Mark Wyland.
Assemblymembers Brian Maienschein and Marie Waldron and state Sen. Joel Anderson were unable to attend, but sent their top assistants to meet with the group.
The college leaders urged legislators to support Gov. Jerry Brown's proposed budget for community colleges, which includes:
$155.2 million to fund a 3 percent restoration of access
$200 million to increase orientation, assessment, placement, counseling and other educational planning services called for in the Student Success Act
$175 million for deferred maintenance and instructional equipment
$48.5 million for a 0.86 percent cost of living increase
$3.6 million to provide additional staffing and technical assistance in the California Community College Chancellor's Office
Assemblywoman Shirley Weber—a strong supporter for education, said this budget is the first step in restoring funding to areas that will build California's economy.
"We recognize that if we are going to be smart in our rebuilding, we need to invest in things that build the long-term effect," Weber said. "And we do that with education.
"Community colleges have been the backbone of California," Weber said. "There are very few institutions with such a broad reach as community colleges."
Assemblywoman Lorena Gonzalez also lauded community colleges for providing access to all students.
"If it wasn't for community colleges, we wouldn't have that gateway to higher education," Gonzalez said. "Even with this additional funding, there have been too many cuts."
The students and college leaders also urged legislators to support SB 850, a bill authored by Block that would allow community colleges to offer bachelor's degrees in certain fields with a high workforce demand, such as nursing or information technology. If enacted, the bill would assist students who need a bachelor's degree to get a job but are unable to enroll at public universities because few spots are available.
SDICCCA president Dr. Melinda Nish called the legislative meetings a success.
"Students, trustees, CEOs and faculty members from our entire region had the opportunity to tell our legislators what is important to them," Nish said. "With an improved budget and economic picture, we wanted to thank our legislators and encourage them to support the governor's proposed budget."