Attention students! Please read the information below on some important parking changes and road construction that will affect students and staff for the Spring 2014 semester.
LEFT TURN into Parking lot B entrance from Otay Lakes Road (northbound) will no longer be available
Center median work will eliminate the left turn lane into the campus parking lot B. Access into the campus into Parking Lot B will be restricted to right turns into and out of the campus.
Access onto the campus will still be available vis Gotham Street, Elmhurst Avenue and the campus entrance from East "H" Street.
Please plan your commute accordingly.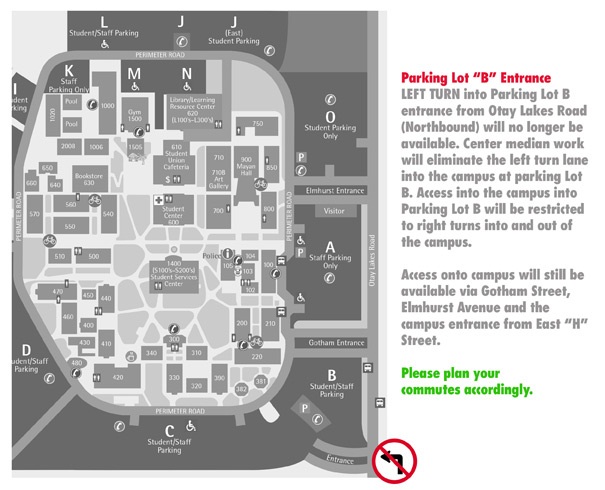 Parking permits ARE NOW AVAILABLE for Spring 2014
Save time and money by purchasing a parking permit. Permits are purchased through WebAdvisor and then mailed to your residence. Click here to get more information on purchasing parking permits.
Discounted parking permits in lot "G" and the newly re-opened lot "O"
Don't forget about the discounted parking permits for Lots O & G (Students with a regular parking permit are also allowed to park in Lots O & G). Click here for more information.
Construction Advisory for Otay Lakes Road
The city of Chula Vista is performing road construction on Otay Lakes Road in front of campus. Entrances to campus via Gotham Street and Elmhurst Street will be severely impacted by the road construction. Left turns onto campus from Otay Lakes Road will be down to one turning lane. Otay Lakes Road will sometimes also be down to one lane of through-traffic. Please expect delays and please plan your commute accordingly. East H Street entrance is not impacted, and may be a better option at this time.
Welcome back and have a great semester!