Southwestern College hosted an international border relations forum recently where education was the hot topic. The two keynote speakers, along with in-house experts in the arts and business, described the unique challenge involved with cross-border learning.
Affectionately named the "Two Cities" forum, the dignitaries convened with a spirit of cooperation and eloquently navigated border topics effecting Southwestern College students every day.
Remedios Gómez Arnau, Mexico's Consul General to San Diego, thinks education for American students within Mexico should be promoted.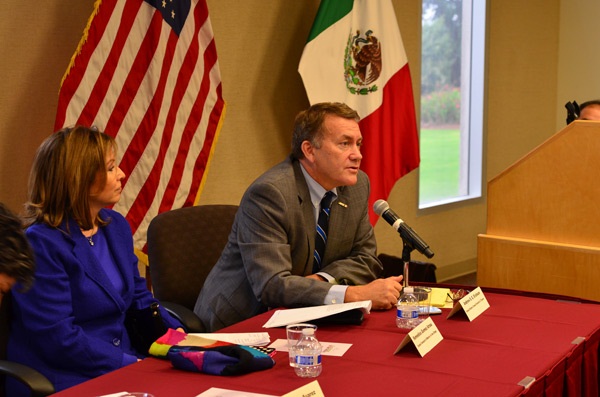 [Photo: Left – Remedios Gómez Arnau, Mexico's Consul General to San Diego. Right – U.S. Consul General to Tijuana Andrew Erickson]
"The only way to be successful in a global world is to put together different mindsets, different cultures," she said.
Currently 14,000 Mexicans go to school in the United States, with only 4,000 U.S. citizens heading south for education, Arnau said. She hopes to improve these numbers to 100,000 heading north, and 50,000 heading south by 2018.
U.S. Consul General to Tijuana Andrew Erickson agreed with his colleague, expressing his dismay over the lack of U.S. enthusiasm to explore and learn in the Baja region.
"What's scary to me, as an Anglo, is that we (U.S. border region) are not so open to Mexico," he said. "People think we are really open… and that we know all about Mexico in the north, but that's not true at all."
U.S. citizens do not need visas to go south of the border. Erickson expressed his confusion over why Americans aren't taking advantage of this educational opportunity.
Francisco Bustos, a Southwestern College professor of English composition, wholeheartedly agreed that cross-cultural learning is special. Bustos hosts a guest writer series at Southwestern which reaches out to Baja writers and writers from other international backgrounds. The series are growing in popularity, Bustos said, helping to expose students to topics of international importance.
Sharing between our countries does not stop at culture and education. The Baja region's charm extends into the business world as well.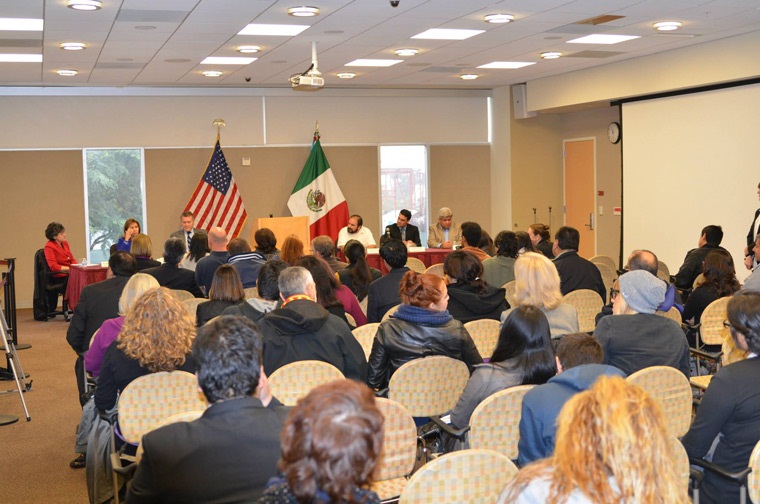 [Photo: Panel from L to R – Dr. Angelica Suarez, Remedios Gómez Arnau, Andrew Erickson, Francisco Bustos, Bernardo Andrade, Victor Castillo]
Erickson mentioned NAFTA, and how U.S. research and development companies have changed Tijuana, Mexico.
"Tijuana has gone from a small tourist place to what I think of as a new Chicago or Detroit," Erickson said.
NAFTA has also been a boon to U.S. manufacturing, Arnau said. Through shared production between Mexico and the United States, a final product has 42% U.S. materials in it, compared with 4% from co-production with other countries, she said.
Bernardo Andrade, a Southwestern College graduate and current adjunct professor, and Victor Castillo, Director of the Center for International Trade Development, praised successes in cross-border business relations.
Andrade shared an anecdote concerning a scenario posed to MIT students concerning a future where North America developed a European Union-like governance with a rotating president.
This isn't the future, Andrade said, it's now.