Representatives from numerous local and federal law enforcement agencies gathered recently at Southwestern College for a career expo and Q&A for Southwestern students.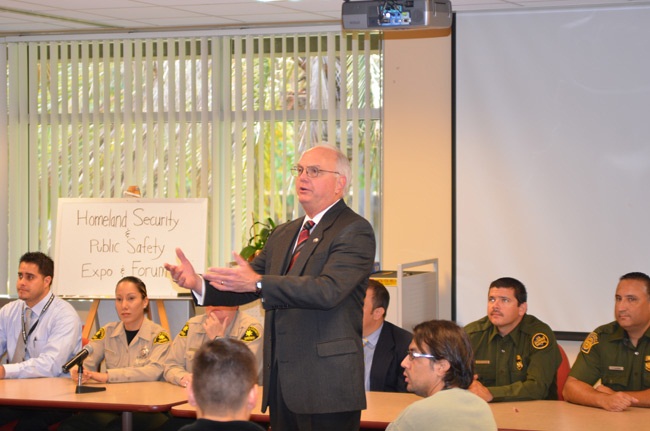 [Photo: Jim Davis, SWC Police Academy Director, addressing the audience in front of the forum panel]
Deputies, Officers, Agents and Administrators from Chula Vista Police Department, San Diego Sheriff's Department, United States Border Patrol, San Diego County and the Federal Government opened up about their lives and careers as Peace Officers to a group of more than 50 Southwestern College students.
Host Jim Davis, Southwestern College Police Academy Director, kicked off the morning forum by addressing the students in the audience and telling them to ask questions and gain as much knowledge as possible.
"You won't find this much expertise in one room again," said Davis.
The forum panel consisted of a wide array of career paths for the students to hear about—which was the general theme of the expo. There are countless career paths the law enforcement industry can provide. The forum speakers were a mix of fully uniformed & armed officers, administrative & human resources personnel, corrections officers and forensic scientists. Most speakers said their departments are hiring and in need of employees.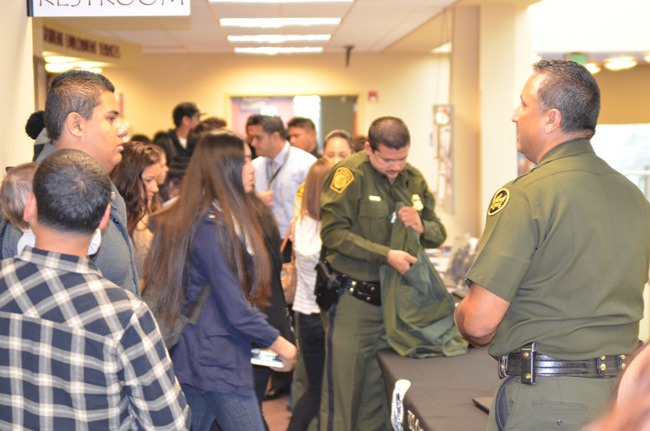 [Photo: U.S. Border Patrol Officers talking with students after the Q&A session]
Most agencies are interested in people from all sorts of backgrounds, speakers said. The only universal skills required are writing and good reading comprehension.
The panel urged students to be truthful in their job applications. Minor infractions on one's record will in itself not disqualify applicants from a position. Lying on your application will, however, leading to an automatic disqualification, the speakers said.
All departments referred students to their websites to register and receive in-depth information on job openings, newsletters, applications, tests and study guides.