(Photo: Blackboard/CaliBUG Conference Keynote Audience)
Southwestern College recently played host to the "Never Stop Learning" tour stop presented by Blackboard Learning and CaliBUG (California Blackboard User Group).
Blackboard Learning is an educational technology provider to SWC and is the backbone of the online learning platform.
With online learning becoming more and more prominent in today's educational society, the effort and partnerships learning institutions must grow with it.
This is where Blackboard Learning comes in.
The purpose of the tour stop at Southwestern College was to update educators on the future of online learning and how digital learning will serve education needs in the future.
This is an immensely important topic for Southwestern College since online learning opportunities at the college are expanding at an incredible rate.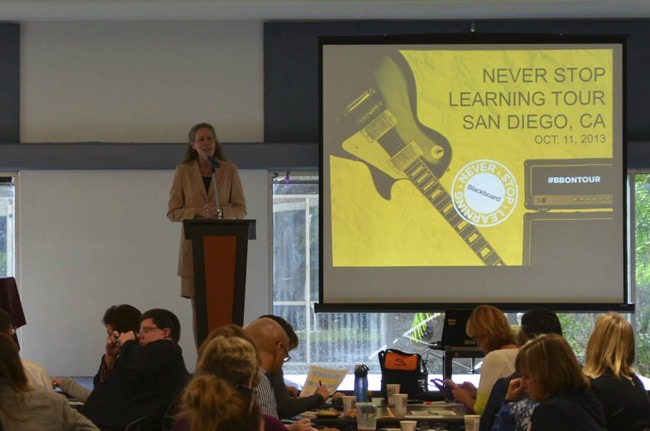 (Photo: SWC President/Superintendent Dr. Melinda Nish giving opening remarks at the Blackboard/CaliBUG Conference)
This was noted by Superintendent/President Dr. Melinda Nish as she spoke at the podium during the morning greeting and keynote presentation to an audience of more than 200.
"We actually have the honor of being the fourth largest community college in online offerings," said Nish. "We began with only 15 students in one course in 2001. But now we have more than 200,000 students a day on the Blackboard learning site."
Another perk of having a vast online learning catalog is educational flexibility, she said. Nearly 75% of Southwestern College students work while attending class.
"We know that having flexible learning environments are really beneficial for our students," said Nish.
After opening remarks from Dr. Nish, Blackboard took over and began their keynote presentation.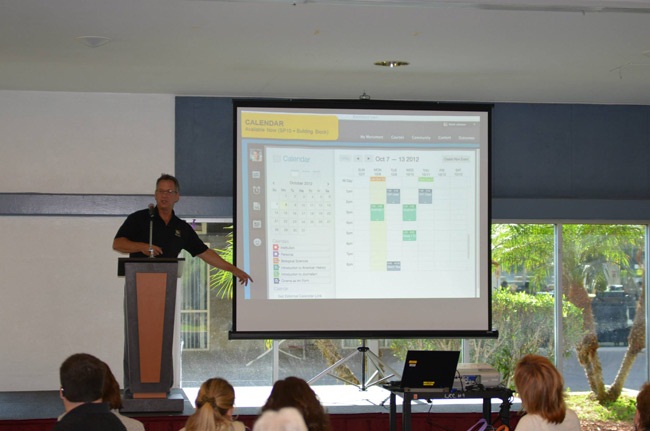 (Photo: Mark Strassman, SVP at Blackboard Learning, during his keynote presentation at the Blackboard/CaliBUG Conference)
Mark Strassman, senior vice president of Product Management at Blackboard Learning kicked off the event with some hard hitting statistic about the future of online learning.
"Since 2003, there has been a three times increase in the number of students that are learning online. 32% of all Higher Ed students are enrolled in some kind of online course, that is 10 times the growth rate we've seen in traditional enrollments," said Strassman
With much of the focus on students, the other important aspect of the day's conference was to educate the educators.
After the keynote, attendees from across the southwest United States broke off into over 30 different learning sessions that covered as many topics. These topics included information about the future of online learning and Blackboard technology.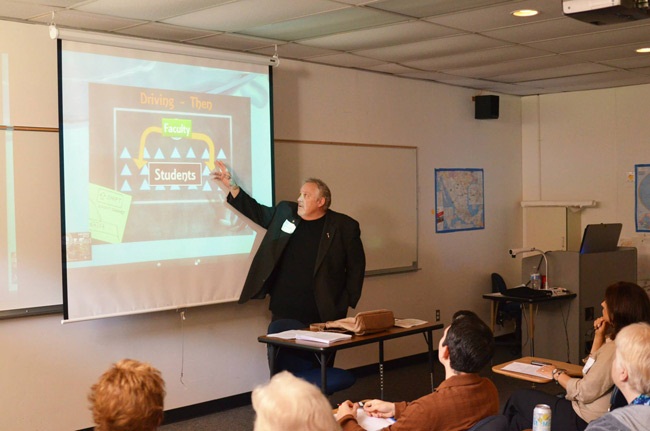 (Photo: SWC Online Learning Support Specialist Larry Lambert instruction during one of the many break-out sessions at the Blackboard/CaliBUG Conference)
Among the presenters were Blackboard employees teaching improved functionality and educators—including some Southwestern College faculty—teaching important how-to's that will be beneficial for users of the Blackboard software.
Keeping up with the pace of digital technology is never easy. The partnership between Southwestern College and Blackboard will continue to give students and faculty the proper platforms to serve the educational needs of today and the future.