Southwestern College Education Foundation Honors Veterans at Gala
Raises over $87,000 and helps veteran causes on campus
Nearly 300 students, faculty and community members gathered under a starry sky Saturday to honor the achievements of active duty military, student veterans and the 92-year-old veteran who has built three companies in the engineering and ship repair fields.
With a goal to create a new endowed scholarship for student veterans enrolled at Southwestern College, the "Gift of Scholarship" gala created a theme that brought together San Diego-area veterans and a special presentation—via Skype—by a Navy Lieutenant currently serving in Afghanistan.
The event raised over $87,000, with nearly $15,000 of that dedicated to the new endowed scholarship for student veterans. Proceeds from the Gift of Scholarship Gala are also dedicated to supporting a variety of student activities that help sustain the innovative learning environment at Southwestern College, including the underwriting of Students of Distinction Award (SODA) scholarships.
Gala attendees were given a cinematic tour of the newly dedicated Veterans' Resource Center and they viewed a video that showed the challenges returning veterans face when enrolling in college. One of the highlights was a live feed from Kandahar Afghanistan by Lt. Monica Phariss, a nurse corps officer at the NATO Role 3 Multinational Medical Trauma Hospital.
"The evening was magical," said Foundation President Ben Green. "Our military members have placed themselves in harm's way to defend our country and our principles. I hope this gala has shown them a small portion of our appreciation."
In her live interaction with the audience, Lt. Phariss congratulated Southwestern College for opening a Veterans' Resource Center.
"This center offers so much great variety of services and it is vital to our military veterans," Phariss said. "Please make sure that you have a comprehensive outreach effort so that our vets have the awareness that the Veterans' Resource Center of Southwestern College exists and is ready to assist them in their needs for education and career and personal counseling."
From young to old and all ages in between, the gala honored all levels of military service.
Nathan Fletcher, a decorated United States Marine Corps veteran, served as the keynote speaker and said Southwestern College had done an admirable job in pulling together many partners to open the Veterans' Resource Center.
"A wave of returning veterans is expected in the next five years," Fletcher said. "I know first-hand, through my advocacy work with this special population, that this wave of veterans has needs that far exceed the capacity of any single program or service.
"My congratulations to Southwestern College for its commitment and follow through in establishing the Veterans' Resource Center," Fletcher said.
A special part of the evening was the presentation of a flag flown over the U.S. Capitol in honor of the Veterans' Resource Center. The flag was presented by 92-year-old World War II veteran Irv Refkin. A two-time Bronze Star recipient, Refkin has built three of his own companies in the engineering and ship repair field and is the founder of the Ship Repair Association in San Diego.

Lt. Monica Phariss speaks from Afghanistan via Skype on the importance of the Veterans' Resource Center for veterans returning to school.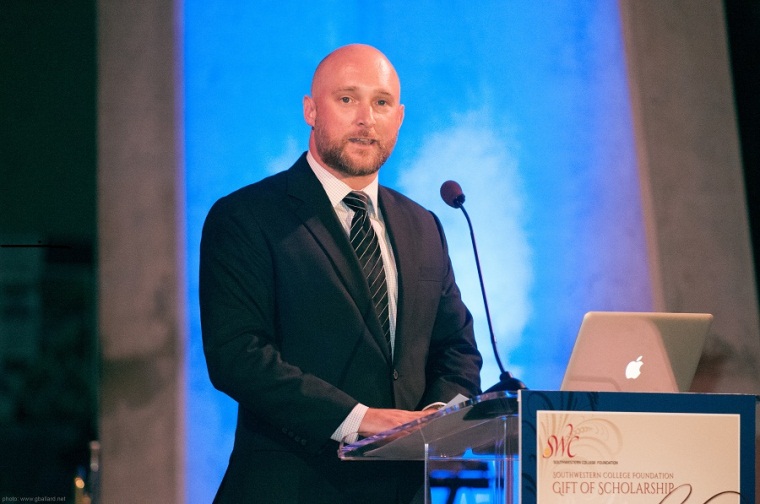 Student Veteran Organization President Tim Walsh welcomes the community to the Gift of Scholarship Gala and introduces them to Lt. Monica Phariss.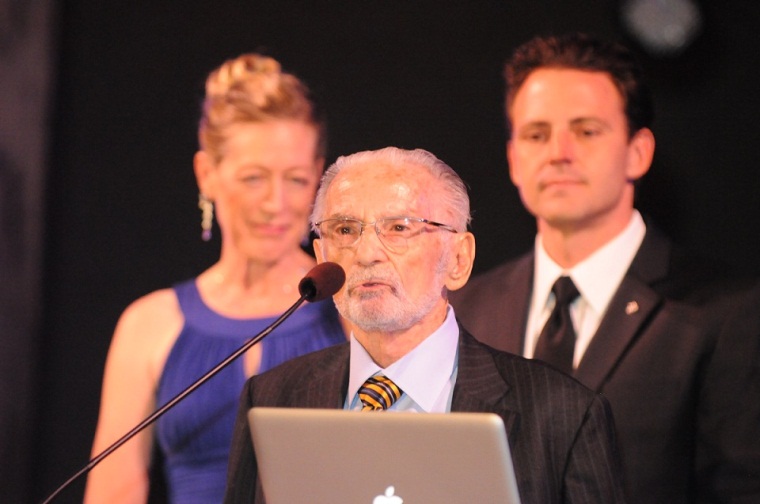 World War II Veteran Irv Refkin presents Southwestern College with a flag flown over the U.S. Capitol. In the background are Southwestern College Superintendent/President Dr. Melinda Nish and U.S. Marine Corps Veteran Nathan Fletcher.
Photo credits: Gary Ballard