South Bay Botanic Gardens Contributes Plants and Talent to New Student Garden
Tiffany Elementary students to benefit

Tiffany Elementary School's thumb just got a little greener, thanks to donated plants and volunteers from the South Bay Botanic Garden. Tiffany Elementary, with sponsorship by the American Heart Association and Sharp, unveiled its learning garden to help promote healthier lifestyles and implement a more hands-on horticulture-based curriculum.
Southwestern College's Landscape and Nursing Technology (LNT) Program as well as the South Bay Botanic Gardens participated in the event by donating $100 worth of plants as well has having eight volunteers at the event to help students plant fruits and vegetables.
Eduardo Munguia, Horticulture Field Site Manager at Southwestern College, said donating time and money was an easy choice because students in the LNT program have a passion for horticulture and a desire to help with this important community project.
"We're neighbors," said Munguia. "We're right across the street.To be able to help kids get started with a passion for growing—that really touches the core of what we love to do."
Dr. Eunice Sanchez, President of the San Diego American Heart Association, said that sponsoring a community garden helped in their goal of promoting healthier lifestyles in the community.
"We want to expose children early on to promote healthier eating habits as well as curriculum that focuses on the importance of fruits and vegetables," said Sanchez.
Julie Adam, garden coordinator at Tiffany Elementary, said she applied for the grant to promote education of healthy eating and healthy living. Adam said the South Bay Botanic Garden had been a tremendous help in the process of implementing the learning garden.
"I feel really blessed and honored to have Southwestern College right here to help us with this project because their knowledge has been invaluable to us," said Adams.
Edward Munguia, field site manager of the South Bay Botanic Garden, helps a student plan a California native plant around Tiffany's new learning garden. The California native plants are meant to attract pollinators and butterflies.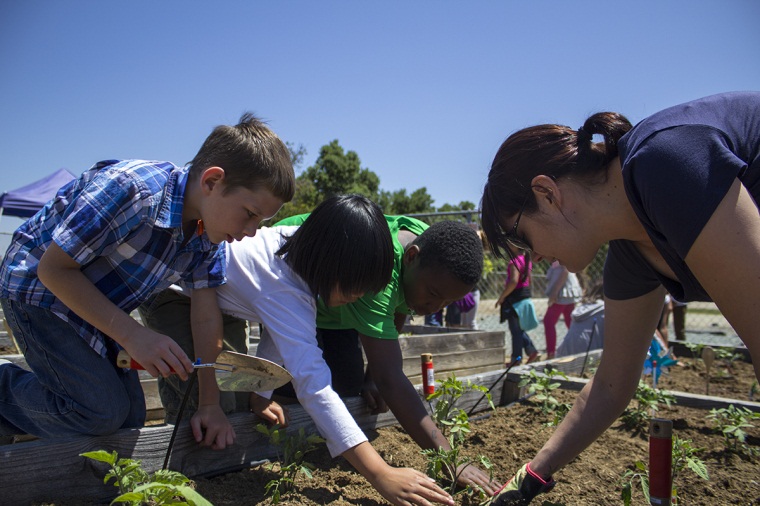 Landscape and Nursing Technology Student Lucretia Trapero-Fabrega (right) volunteers and helps a group of fourth graders plant watermelon while teaching them about proper planting techniques.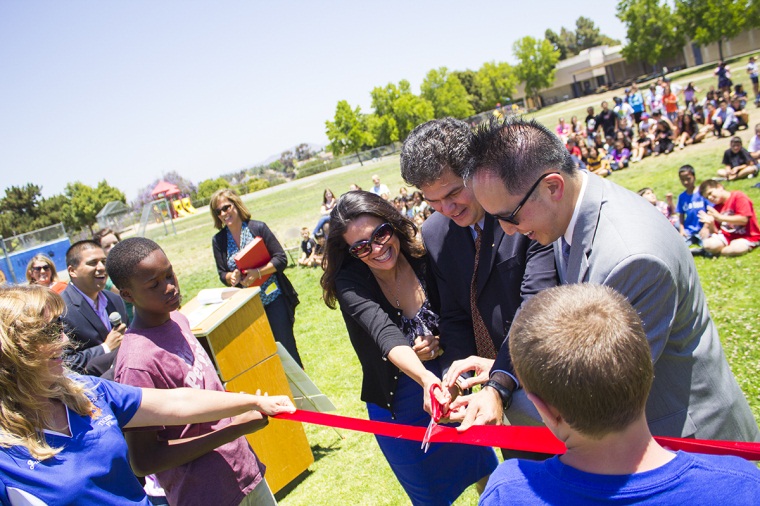 Dr. Eunice Sanchez-Mata, president of the American Heart Association, San Diego, Dr. Francisco Escobeo, superintendent of the Chula Vista Elementary School District, and Stephen Chin, manager of marketing and communications for Sharp Health Plan, cut the ribbon to Tiffany's learning garden.