Chancellor Brice W. Harris Unveils Salary Surfer Website
Salary Surfer shows median incomes for widely enrolled community college programs
El Cajon, Calif. – Chancellor Brice W. Harris unveiled today the groundbreaking online tool called Salary Surfer released by the California Community Colleges Chancellor's Office. Salary Surfer, which can be viewed at salarysurfer.cccco.edu, presents median annual incomes for 179 of California Community College's programs and certificates. The new online tool presents a look into the future for students – and the public – who have found their passion to see a median annual salary after two and five years of completing their program.
Salary Surfer does not include students who are transferring to a four-year institution, but it is meant as a resource for students who immediately enter the workforce upon graduating from a California Community College.Chancellor Brice W. Harris said that the innovative online tool presents a tremendous investment for the students and the state of California.
"While future earnings should not be the sole determiner in choosing an educational program, students and the public deserve to know what monetary return they can expect from their investment," said Harris during a news conference at Grossmont College in El Cajon. "Salary Surfer provides that, and California becomes one of the few states in the nation to offer these results publicly."
Initial data produced by Salary Surfer shows that students who complete an associate degree and immediately enter the workforce more than double their incomes after two years and nearly triple their earnings after five years in the respective field. Nearly 45% of students who graduated with their associate degrees earned more than $54,000, the median wage of someone with a bachelor's degree living in California, according to the U.S. Census Bureau.
The California Community College District is the largest system of higher education in the nation and, with the release of Salary Surfer, becomes one of the most transparent systems of public higher education in the nation.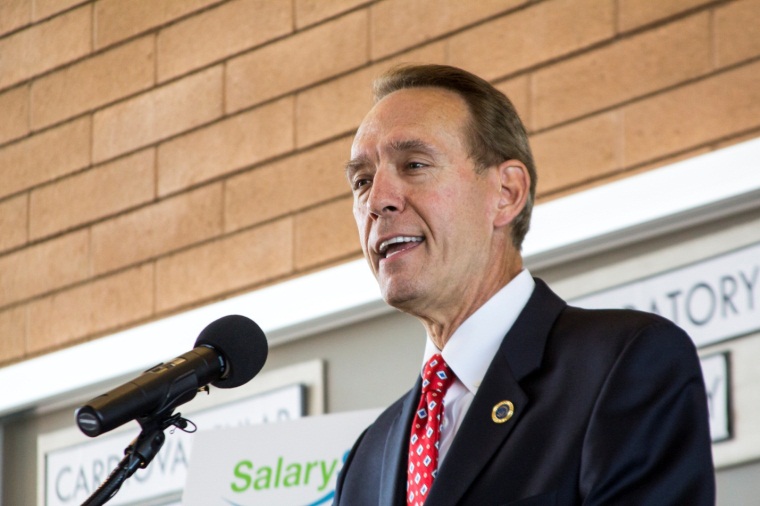 Chancellor Brice W. Harris unveils Salary Surfer at a news conference at Grossmont College in El Cajon. Salary Surfer is a new online tool to show the median earnings for those who graduate from California Community College programs and immediately enter the workforce.