Southwestern College hosts 80th Assembly District Candidates Forum

The race for the 80th State Assembly seat made a stop at Southwestern College recently. Democratic candidates Steve Castaneda and Lorena Gonzalez each presented their qualifications to the Southwestern College community in a forum moderated by Political Science Professor Phil Saenz.
The 80th Assembly District seat became vacant in March after Ben Hueso was elected to the 40th State Senate District. The 40th State Senate District was left vacant when Juan Vargas left to fill the 51st Congressional seat left vacant when Bob Filner was elected mayor of San Diego.
Gonzalez, a San Diego labor leader, classifies herself as a pro-jobs Democrat and a working family advocate. Gonzalez said she is passionate about creating middle class jobs and providing a fairer budget disbursement in education.
"I think it is critical that equal funding isn't based on equal distribution," said Gonzalez. It's based on the starting line and we don't start on the same position. People who go to underperforming, poorer, schools need initial resources."
Castaneda, former Chula Vista councilman, said he would analyze California's regulations, the way it spends its time and its money.
"Students coming out of college are going to be coming into a workforce that doesn't have jobs to provide," said Castaneda. "We need to expand enterprise zones because it does benefit places like Chula Vista, National City, and South San Diego. It allows people to come and hire local folks."
The 80th Assembly District includes portions of City Heights, Barrio Logan, National City, Chula Vista, San Ysidro and other areas of South San Diego.
Professor Saenz also hosted a voter registration drive immediately after the forum to help increase voter turnout. The special election will be held on May 21.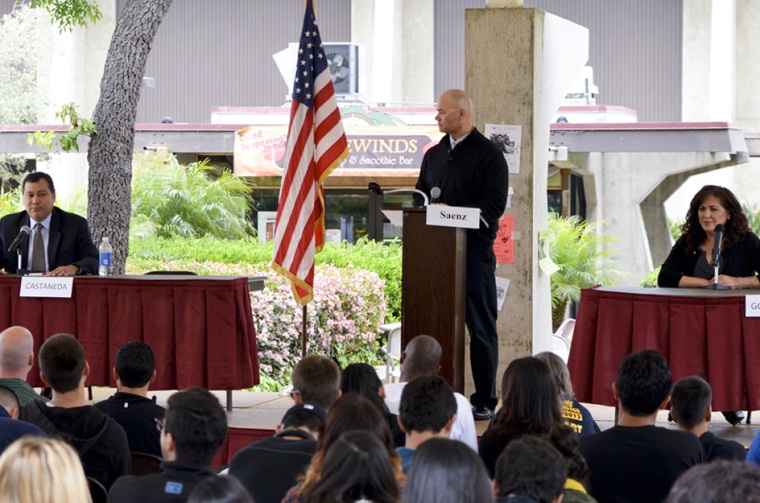 Candidates Steve Castaneda (L) and Lorena Gonzalez (R) answer questions on a wide variety of topics. Southwestern College Professor Phil Saenz (center) served as moderator.
5/5/13