Southwestern College Governing Board Appoints Nora Vargas to Fill Vacancy
Longtime community activist anxious to get to work
The Southwestern College Governing Board appointed longtime community activist Nora Vargas to fill vacant seat #1 Monday night.
Vargas was one of six finalists selected to participate in a public interview where questions were posed from the Superintendent/President, Governing Board members, the student trustee and members from each of the college's constituent group. The six finalists had been narrowed from a field of 12 candidates who each made a three-minute presentation to the board at a public meeting April 25.
Each candidate answered questions meant to determine their knowledge of budgets, shared governance, establishing trust among staff and increasing student transfer rates to four-year universities.
In answering her questions, Vargas highlighted that she is a graduate of Southwestern College who has spent more than two decades gaining knowledge at the local, state and federal levels. She said she has learned much about the direction in which the college is headed because of the governing board meetings she has attended the last several months.
"I am very excited and absolutely up for the challenge," Vargas said after the meeting. "I want to continue the efforts that have been started by this board and work with the campus community and students to ensure student success."
Among the first orders of business, Vargas said, is to learn as much as possible about the new Educational and Facilities Master Plans accepted by the board last week and to concentrate on student success so students can achieve their goals for transfer or entering the workforce.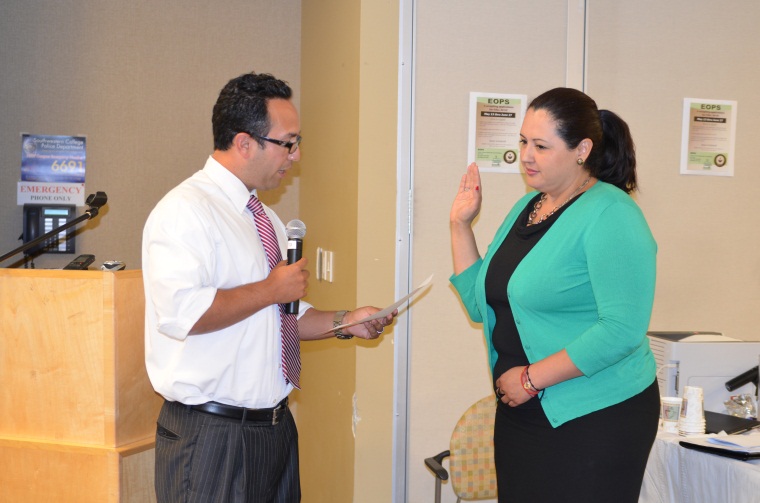 Governing Board President Humberto Peraza, Jr., administers the oath of office to newly appointed Governing Board Member Nora Vargas.