Southwestern College Presents New Educational, Facilities Master Plans

CHULA VISTA – In a standing-room only workshop recently, Southwestern College faculty, staff, elected officials and members of the community caught a peek at the future of Southwestern College as district officials and Cambridge West Partnership consultants presented the new integrated educational and facilities master plans for the college.
The presentation included a vision for the college that would maintain Southwestern's strong academic core in the middle of campus while creating new access for community uses on the underutilized land at the corner of Otay Lakes Road and East H Street.
The Prop R-funded plans redistribute several departments from costly-to-maintain buildings and moves them to new reconstructed, state-of-the-art buildings while creating a new, welcoming environment.
Among the redistribution proposals is moving the Math and Science buildings to the area currently occupied by the gym and Athletics Department. A new wellness center with swimming pools and a gymnasium would be constructed on the underutilized land on the corner of Otay Lakes Road and East H Street, making them more accessible to the community. Also in consideration is construction of a Performing Arts Center next to the new wellness center.
The Cesar Chavez One-Stop Student Services building is being proposed to be moved to the front of campus, making prospective student accessibility a priority. The One-Stop building will be reutilized as a one-stop Academic Success Center.
A crucial concern in the facilities master plan is student safety. The plan calls for moving the road to the perimeter of the campus , while opening new entryways into the college to help minimize congestion and eliminate vehicular and pedestrian contact.
Other visions on Southwestern College's horizon include solar projects, a planetarium and parking structures.
The College chose to present a draft of both plans to the community and welcomes input that will help Southwestern College to better meet the needs of students and community.
The presentation of the facilities master plan can be accessed here.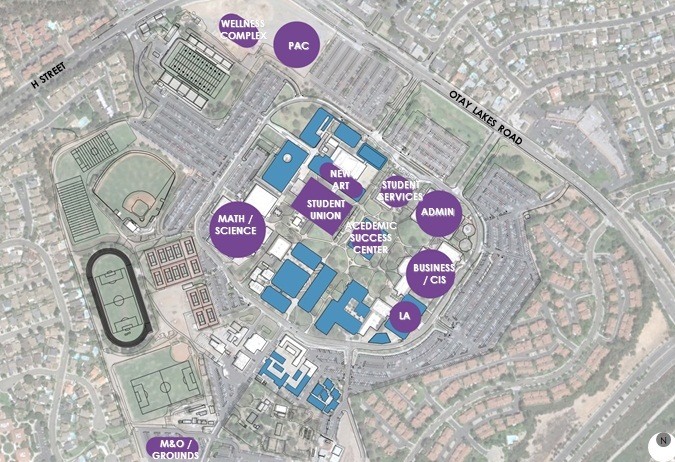 Conceptual future: The conceptual campus layout for the Southwestern College Chula Vista campus. The redistribution is intended to maximize community involvement, create a better flow through campus, eliminate pedestrian-vehicular contact, and make student services more accessible all while meeting Southwestern College's educational goals and vision.